Aug 20, 2021
A DEAL FOUR YEARS IN THE MAKING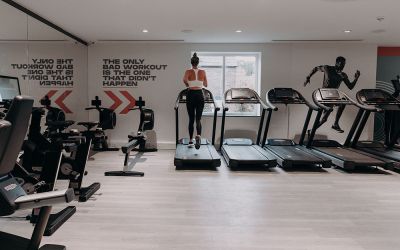 Long-serving Independent Hotel Show exhibitor Crown Sports Lockers received a call out of the blue early in 2021.
Stratton House, a visitor to the 2017 edition of the show, had discussed plans with the Made in Britain changing room specialists to introduce spa provision but planning permission for the project took longer than expected.
"Once we were in a position to press the 'Go' button again, says hotel director Aidan Stevens, "Crown was our first port of call to help us progress the project by fitting out changing areas and treatment rooms."
The £1m expansion complete, Stratton House's 'Spa in the Garden' opened for business in mid-May but the sector havoc that lockdown had wreaked had left its owners awash with uncertainty, like so many hospitality and leisure venues.
As 'Freedom Day' beckoned on 19 July, Aidan expected to see their venture bustling with new business. "We've already received some great feedback from guests, which I hope will continue as hospitality returns to normal."
Rocky road
Aidan recalls the rocky road to creating the spa destination. Nestling in the Cotswolds, near Cirencester, Stratton House presents a characterful face, resplendent in period stone construction dating back to the 16th century. Purchased by the Stevens family five years ago, the property offered major potential for expansion of leisure provision.
"Creating a new spa was our intention from the start," says Aidan. But the Grade II listing would mean preserving the hotel's original frontage. "We're in a conservation area and the planners have exacting requirements about what we can and cannot do."
"We were anxious to maximise the opportunity at the back of the hotel, while preserving the feel of a walled garden," he continues.
"The vision was to feature a glass pavilioned spa building in the garden, which would largely remain out of sight."
"I'd met Sam [Palmer, Crown's then Project Manager, now Co-Director] on the Independent Hotel Show stand and discussed the project with him.
The business model was to reposition us as a destination hotel with greater emphasis on leisure - to attract guests looking to relax with half-day spa packages, that could include manicures, pedicures, sauna, steam, whirlpool spa and relaxation room.
Stratton House guests can enjoy a host of leisure attractions and picture postcard Cotswolds villages nearby – Sudeley Castle, Westonbirt Arboretum and Gloucester Cathedral are all convenient.
After finally gaining planning permission for the development in 2019, Aidan picked up with Sam again in December. "We were within 36 hours of signing the contract with the builders but had to hit the pause button, due to unforeseen delays. Then Covid-19 hit, causing further disruptions."
By January 2021, Aidan had pressed 'Go' again, inviting Sam to measure up on site in late March and a month after Crown had completed a seven-day fitout of Egger décor male and female spa changing rooms, embracing lockers with integrated seating, wet and dry vanities, towel display and drop units and ancillary furniture in five treatment rooms, including cupboards and worktops.
"Crown made a sizeable input into the project," says Aidan, "working closely with my wife Sarah, who has an eye for design, and helping us make greater use of the space by hiding away storage units and rethinking the ladies' area by introducing more privacy for both guests and staff.
"They really applied their extensive experience with designing and fitting out spa facilities to take the end result beyond our expectations. Simply put, Crown were as chilled working with us as we hope our guests will be with their spa experience here."
---
Meet the team at Crown Sports Lockers on stand 1574 at Independent Hotel Show this October. Secure your complimentary pass today.