Oct 12, 2021
ASTER MURO AT INDEPENDENT HOTEL SHOW LONDON 2021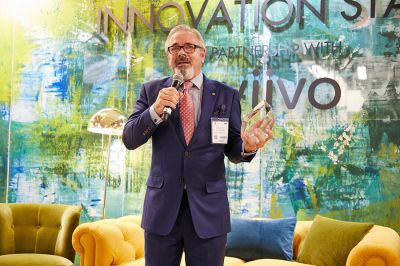 Innovative British art studio Aster Muro created a statement art piece for Independent Hotel Show London 2021, presented by James Hallam
Aster Muro is known for its fresh take on traditional fresco, experimenting with materials and creative processes to create striking, layered artworks. For this year's event, the studio produced a large-scale mural as a backdrop for the Innovation Stage, in partnership with eviivo.
The theme of Independent Hotel Show 2021 was reconnection and the mural reflects this, conveying an uplifting sense of growth, light and renewal. After over a year indoors and isolated, it is a colourful celebration of human connection, inspired by nature. The piece has been created 'en plein air' in the foothills of The Blorenge mountain near Abergavenny, Wales, surrounded by trees and beautiful scenery.
"The ideas of place and connection are incredibly important in our work," says Aster Muro Director Charles Snell. "Painted in pigmented plaster using our innovative contemporary fresco techniques, the piece is centred on the concept of 'place as inspiration,' taking note of gardens such as Monet's at Giverny."
Take a look at the time laspe of Aster Muro creating this beautiful piece below. Plus, this artwork is available for purchase so if you would like to find out more, you can contact Charles at studio@astermuro.co.uk.