Jun 18, 2021
BEYOND DESIGN: AN INTERVIEW WITH HOTEL DESIGNER GERALDINE DOHOGNE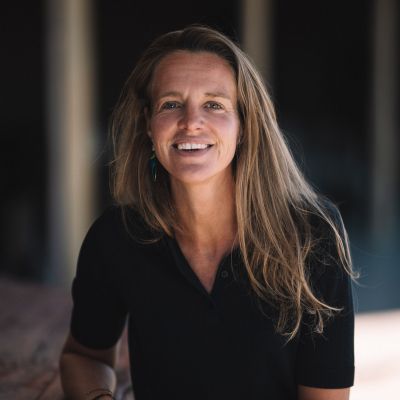 We interviewed hotel designer Geraldine Dohogne on what inspires her work, launching a new studio and the impact of Covid-19 on consumer behaviour.
Geraldine Dohogne didn't study design. In fact, she was learning international business when she first met French hotelier Arnaud Zannier and joined Zannier Hotels on the operational side, during the purchase of Le Chalet hotel in Megève, France.
"My career shifted to design through passion," she explains. Dohogne spent around 14 years crafting the design for Zannier Hotels, working across international locations such as Namibia, Cambodia, Vietnam and Ghent.
In January 2020, she made the decision to found Beyond Design, a design studio creating tailored concept, architecture and interior design for worldwide hospitality, lifestyle and residential projects.
"It was a very exciting moment," she says of the move. "It's a hard decision to take – you never really know what's going to happen."
Over the course of her career, Dohogne has seen numerous hospitality design trends come and go.
"It changes a lot," she explains. "It's all the information we receive from outside. It's the media, it's how the world is evolving. I can remember the beginning of boutique hotels, when 'boutique' was a new word.
"The industry is continuously evolving. People want spaces to meet, catchup and learn. They don't just come to a hotel to sleep, they come for an experience. People are now planning to spend time in the property itself. In terms of an experience, before we were looking at whether the hotel had a spa. Now people look for a spa, but also a gym, a PT or group sports classes, cooking classes or pottery classes.
"Another big change is the focus on the local experience. People used to stick to a brand, and wherever they were in the world they could have the same experience. Now guests want something that reflects the local culture and gives them the knowledge that they can visit a city and discover not just the historical buildings but also a way of life expressed in the architecture and design.
"You can see it in how many independents there are now. Every time you read a magazine you see a new brand. They all try to stick to a leitmotiv or a description. For me a space has to be functional. I approach a space in the way that I would if I was living in it. I have a human approach."
Dohogne's studio, Beyond Design, operates globally within the hospitality and lifestyle industries, offering a fully tailored service to its clients.
"We start a project from the very beginning," she explains. "We work with the clients' architects. We do all the interior design and deliver the full product, everything from the uniforms and glasses to the cups and spoons. We think about the music, the aromas, the needs of both guests and staff – all the different systems we experience in a hotel.
"We have projects with beautiful buildings and surroundings. To create a story and identity you can only make that work if it's fully integrated. I wouldn't take a really old building and put a really new idea in it. You can't completely separate those two strong elements.
"It's the local country, the area and the history. It's trends from the period and looking at the craftsmanship that is available in the region, for example what type of fabrics and weaving techniques are native to this part of Asia and how can we use them in a new way for positive impact? It's part of the whole concept of regenerative design and consumption of energy; to work locally and use the skills available to create better systems. It's a way of acting and a way of building.
"We see it in food and beverage too; hotels that have their own spice gardens and animals and they grow their own produce."
When asked how Covid-19 might impact on the hotel and hospitality industry long term, Dohogne suspects there might be some changes in consumer behaviour and priorities.
"People will still love to get together," she says. "But they also want to be closer to nature and they want to travel slower, I think people might stay in that slower quality of life. I'm interested in how business travel will pick up again."
---
To learn more about Geraldine Dohogne's work and career, visit geraldinedohogne.com.