Oct 03, 2021
HIJIFFY INTEGRATES WITH INSTAGRAM AND GOOGLE BUSINESS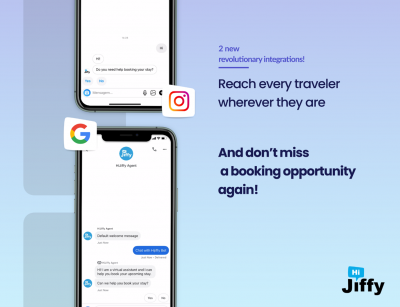 HiJiffy is launching an update for the Booking Assistant solution: integrating the automated Booking assistant with Instagram and Google Business. HiJiffy's Booking Assistant helps hoteliers drive direct bookings through their websites and Facebook pages, and now will also be able to set up an automated chatbot solution on Instagram and Google Business.
Hoteliers can centralise all their communication channels with HiJiffy's Booking Assistant. At the same time, this solution delivers a human-like automated service available directly on the website, Facebook, WeChat, Line, Telegram and now on Instagram and Google Business Messages. HiJiffy's Booking assistant has +160 automated and personalisable answers, provides real-time quotes, includes upselling opportunities, and finalises a booking request. This happens thanks to the AI technology powering this solution, whose objective is to assist hotels in increasing the chance to generate more direct bookings and upgrade their online communication and presence.
Main advantages of using HiJiffy's Booking Assistant on Instagram or Google Business Messages:
Availability 24/7: HiJiffy's Booking Assistant can provide a human-like service 24 hours a day and seven days a week. Guests can make queries about the hotel, request quotations or include stay preferences by just clicking on the direct messaging solution that appears on Instagram or the Google Business profile.
Omnichannel direct reservations opportunities: Hotels can shorten the booking period by allowing guests to complete the reservation without leaving their app or chat conversation. With HiJiffy's solution, travellers can view room categories, hotel pictures, additional services and prices and finalise booking in situ.
Take advantage of a visually driven platform: Instagram is one of the most powerful online platforms for marketing and communications today. Hotels more than ever can display their property and share guest's experiences regularly through this platform. Guest's can now decide to book the hotel that they are browsing on Instagram, and they won't require to be redirected to their website anymore, securing that "dream-like" picture view without leaving the app.
Automation: Teams are able to prioritize their duties and allow the chatbot to automate repetitive tasks, such as availability requests, hotel information, check-in and check-out times, amongst other FAQs.
What other features will these integrations have?
Quick activation: Hotels already using HiJiffy's booking assistant can activate this feature within just a few steps. To switch on this service we will use the already existing information provided for other channels. This shortens the installation process by optimizing the set-up procedure. Once active, hoteliers will be ready to start receiving direct bookings, solve queries and handle requests with HiJiffy's Booking Assistant solution.
Direct integration with the hotel's booking system: Hotels will be able to retrieve and save the booking requests directly into their booking system, allowing them to track their availability accurately at any given moment.
Handover to human agent: If the conversation needs to pass to a hotel agent, the history of the previous chats are saved, recorded, and available for the agent to visualise before jumping into the discussion. This can help hotel staff avoid redundant questions that the chatbot or the guest may have already answered and increase the support team's efficiency.
AI-powered solution: These messaging solutions are previously trained with AI technology, and each conversation conducted by the bot is used to improve their conversation continuously. Moreover, hotels can personalise and enhance their own virtual assistant by adding their own FAQs to the decision tree.
Reports and suggestions: The console holding all the centralised communication of the hotel contains information on the chatbot's performance and allows hoteliers to analyse the most frequent requests, complaints, review the satisfaction index, amongst other valuable data.