Sep 17, 2021
INSIDE INDEPENDENTS, FROM STR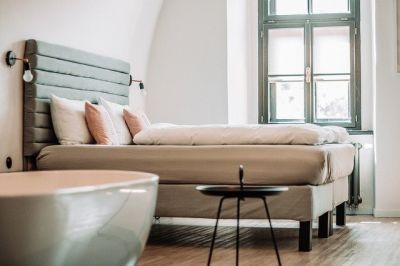 Now more than ever, data is key to success as the industry slowly navigates the road to recovery. STR, the global leader in hospitality market analytics, is proud to work with more than 3,900 U.K. hotels on the data benchmarking solutions that will help shorten this long journey.
STR are also excited to participate and meet their partners offline at this year's Independent Hotel Show. For this occasion, they have prepared a report to show how independent hotels have performed against branded properties over the course of the pandemic. Previewed briefly below, the full report will be available to Independent Hotel Show attendees during and after the event.
REPORT PREVIEW
Of the nearly 4,000 U.K. properties participating with STR, 14% are independent. Perhaps more affected by the COVID-19 crisis, these properties have shown a noticeable improvement in the average daily rate (ADR) through the first seven months of 2021, subsequently pushing revenue per available room (RevPAR) upward. This has been key to the sector's early recovery because supply has grown at a faster pace than demand, placing more pressure on occupancy during a time of changing travel patterns.
From March 2020 on, with a lack of groups and business travel, focus has shifted to the domestic leisure traveller, which has preferred smaller regional markets. The U.K. regional market has shown positive occupancy developments during the summer months, with some submarkets even surpassing the 70% occupancy mark.
Now with restrictions easing, forward-looking data shows weekend vs. weekday booking patterns that mirror pre-COVID times. With marketplace dynamics shifting, forecasting and analysing profits/expenses will be paramount in working toward a "new normal".
Working with STR means working with the most trusted data provider in the industry. Under no circumstance do they share individual client data outside of those authorized to view it. This confidentiality ensures an even playing field that gives every hotel working with STR an advantage.
Register for your complimentary pass today and visit STR on Stand 1460 to pick up your copy of the exclusive 'Inside Independents' report.