Sep 15, 2021
HAMILTON'S LAUNCHES NEW 'GRAY' PLATE FINISHES AND USB CHARGING DEVICES AT IHS21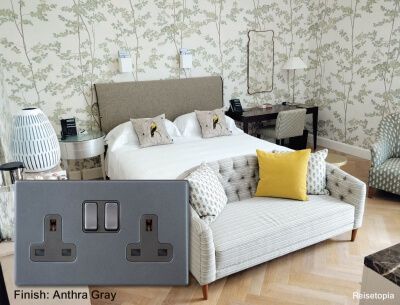 British brand, Hamilton Litestat will display its latest on-trend metallic finishes, its vast design and finish capabilities, as well as solutions that deliver the functionality guests are demanding in today's highly connected world.
NEW STANDOUT FINISHES
Hamilton's latest on-trend 'Gray' finishes – Basalt Gray and Anthra Gray, will be showcased at this year's show. Inspired by Italian design trends, Basalt provides a teasing refractive aesthetic – grey base with a neutral cast and subtle bronze hue provides a warm, nature-inspired finish. Meanwhile, Anthra Gray, with a subtle granular finish, oozes volcanic strength and natural sophistication. Visitors to the show can collect free samples of the new finishes at Hamilton's Stand, No. 1464.
USB-A AND USB-C – RAPIDLY RECHARGE
Now a guestroom necessity, Hamilton's latest solutions to rapidly recharge both legacy and new smart devices while your guests relax and recharge themselves will also be on show. Available in 11 finishes and four sleek and stylish designs, Hamilton's combined 2.4A USB-A and USB-C dual switched sockets make them ideal for the latest devices as well as legacy smart phones and tablets.
Hamilton also offers a 18W USB-A and 45W USB-C Euro Module that delivers a superior rate of charge for high-capacity devices including the new MacBook Pro and iPad Pro. Ideally suited to positions at the desk area of a suite, the Euro Module can be fitted within a single plate or combined with other functional solutions within a multi-part bespoke plate.
WIDE ROCKER – CLASSIC WITH A TWIST
Inspired by design trends in the Asian market and making a big impact in the hotel sector to welcome international guests, Hamilton's Wide Rocker Switches will again be on show. The on-trend design is available in five Linea CFX collections, as well as Hartland CFX and Sheer CFX, and can be supplied in a range of finishes, including popular bronze and brass finishes.
MADE TO ORDER
From its headquarters in Bristol, Hamilton has the capability to cost-effectively produce custom-made plates to support customer requirements, including low volume requests. Configurations particularly suited to the hotel sector could include a plate featuring a Euro Module, Schuko Socket, American Socket, and double switched socket.
---
Don't forget to check out Hamilton's Perception CFX collection of clear plates, plus its Paintables colour matching service – examples of both will be on show, Stand 1464.