Sep 15, 2021
PUTTING SUSTAINABILITY FIRST: SCOTTISH BRAND LAUNCHES RANGE OF SUSTAINABLE HOTEL PRODUCTS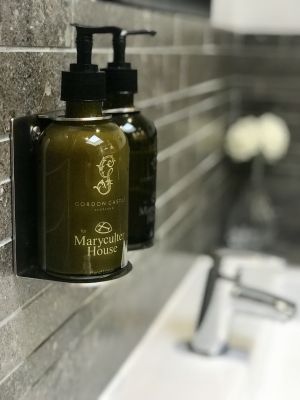 Putting sustainability first.
Scottish brand, Gordon Castle Scotland, has launched a naturally fragranced hotel bath and body range to support the restoration of one of Britain's oldest and largest walled
gardens. Expanding its sustainability mission throughout the whole estate, the brand has moved away from single use plastic and now offers an extensive range of refillable glass bottles and 100% recycled and recyclable containers.
Every product in the range contains pure, natural essential oils from herbs and flowers grown in the once neglected Scottish walled garden. With floral and herb notes, the range has been designed to enlighten the senses, transporting guests into the idyllic garden through shampoo, conditioner, body wash, body lotion and soap bar. None of the products are tested on animals and all are free from artificial fragrances, colours, parabens, glycols, SLES, SLS and petrochemicals.
For boutique hotels or B&Bs looking to move away from single use plastic, the brand is able to hand-engraved glass bottles on site with a business logo or special message. Each design is hand drawn and carefully engraved onto the bottle and filled with product of choice. Large refillable drums are also available with this range to allow businesses to keep costs down and reduce the environmental footprint.
---
For information about the Scottish hotel range please contact Product Manager Jo Thomson on products@gordoncastlescotland.com or call 01343 612312.