Sep 15, 2021
ROOM TO REWARD DONATE £500,000 WORTH OF BREAKS TO HIDDEN HEROES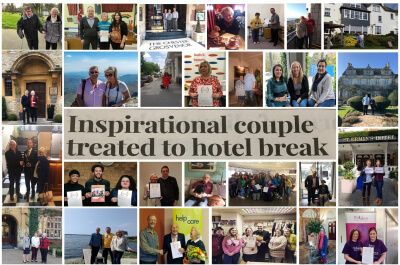 The hospitality industry has collectively donated over ½ a million pounds worth of short breaks to Hidden Heroes from the voluntary sector, creating memorable experiences for some truly inspirational people, at virtually no cost.
It's all been made possible by Room to Reward, a unique hospitality charity that works on a simple premise. Hotels donate their anticipated unsold rooms, charities and community groups nominate their outstanding volunteers for a break, Room to Reward make it happen.
Founded in 2015 by Nicolas Roach, Chairman of Harbour Hotels, Room to Reward now partners with over 500 hotels across the U.K. From major groups like Jurys Inn, Bespoke Hotels and Park Plaza and iconic properties like The Dorchester, Rosewood London and The Torridon, to independent hotels and small BnB's, hoteliers across the sector have come together to give some time back to those who give so much to help others.
"We have been blown away by the wonderful support of our hotel partners and the hospitality industry as a whole," said Adam Terpening, Director of Room to Reward. "Without them, our initiative wouldn't be possible. To have donated over £500,000 worth of breaks in unsold rooms is an amazing achievement from the hotel industry and testament to the generosity that exists within it."
"The Room to Reward system is extremely manageable," said Sally Beck, General Manager of the Royal Lancaster. "I like how they have found a way to thank volunteers of charities across the U.K. and it really resonates with my team when we have a Hidden Hero come and stay with us. They are proud to work for a hotel like ours and we are delighted to support Room to Reward."
"Volunteers are the heart of our charity," said Lieutenant-General Sir Andrew Gregory, CEO of SSAFA: The Armed Forces Charity. "By working with Room to Reward, we have been able to show that their work really makes a difference and give them something tangible back in return for their commitment.
"There are 140,000 empty rooms across the U.K. every night of the week," said Mr Terpening. 'If hoteliers give just two unsold rooms a year to Room to Reward, we can have a real impact on the Hidden Heroes of our society. Every day we read remarkable stories of ordinary people doing extraordinary things to help their charities and communities. We are 1000 volunteers down, there are millions more to go."
---
Find out more and join the journey at www.roomtoreward.org.