Oct 01, 2021
THE COVID-DRIVEN ADAPTIONS THAT ARE HERE TO STAY, PRESENTED BY EVIIVO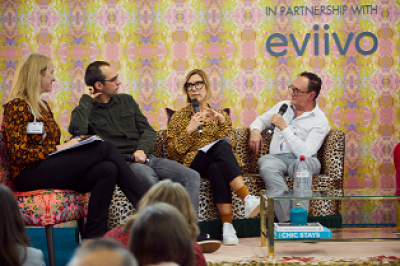 Day two of the Independent Hotel Show, presented by James Hallam, will kick off on Tuesday 5 October at Olympia London with a session from booking and channel management system eviivo entitled 'How Covid changed my business for the better', taking place on the Innovation Stage.
The session, hosted by eviivo's Business Development Director Ian Hardwick, will take a look at some of the positives that have come from the disruption of the past 18 months.
Although the pandemic and subsequent lockdown has been a tough challenge to navigate for many in hospitality, it has also forced business owners to think creatively and innovatively to problem-solve in the face of ever-changing restrictions. Meanwhile, consumers have rapidly adapted to unfamiliar technologies and new ways of navigating hospitality spaces.
Ian will be joined on the panel by Frank Lawrenson, Owner of Rectory Manor Hotel; Gemma Conway, Director of Cotswold Cottage Gems & The Lansdowne Boutique B&B; and Kerry Turner, Owner of Blanch House Boutique Hotel.
Frank commented: "It's so good to be back meeting suppliers and fellow hoteliers face-to-face after such a long time. Covid has presented so many challenges for our industry but, as always, there have been opportunities too. As one of the 'How Covid changed my business for the better' panel, I hope I can highlight some of the positive outcomes for our business that others can relate to."

Gemma added: "I'm very pleased to see the return of actual in-person events again, and to be on the panel for the 'How Covid changed my business for the better' seminar session. After such a challenging 18 months, and a very busy summer, the Independent Hotel Show seems like the ideal point to pause, take stock and look towards the future for our business."
The Innovation Stage will also host a discussion from eviivo on the morning of Monday 4 October, where Marketing Director Paul Saxby and Head of Distribution Lee Bryan will be providing data-backed insights into 'Covid-driven adaptations that now drive more bookings.'
Paul commented: "We can't tell you how delighted we are to be back at the Independent Hotel Show as recommended business partners, with the opportunity to meet everyone again, face-to-face, at last! Come and see us on stand 1160 and be amongst the first in the world to play 'Crook a Duck', you may even walk away with winning a prize! Or take in one of our informative talks on the Innovation Stage, we really look forward to seeing everyone at this great show."